News
Portland Business Journal: Meet the Lewis & Clark College startup that's getting more out of kale than a salad
Read the original story from the Portland Business Journal.
It only makes sense that a clean tech company based on the biological properties of kale would be based in Portland.
Kale-Tek, created by Lewis & Clark College students, has figured out a way to extract the micro-crystal surface wax of kale leaves and create a waterproofing spray. The startup is one of 10 semifinalists participating in the annual Portland State University Cleantech Challenge.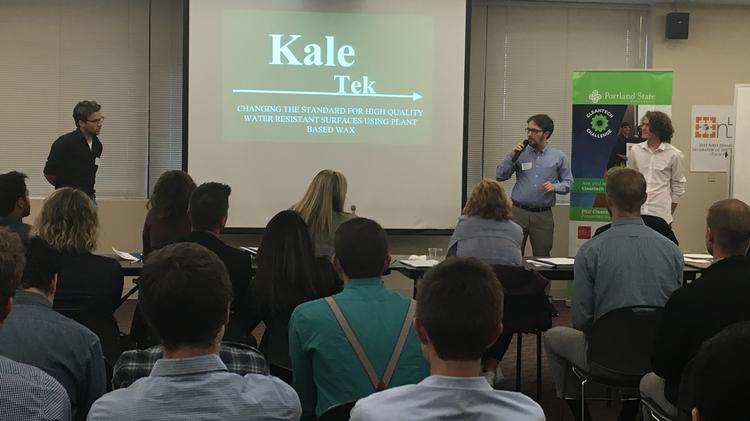 Kale-Tek makes a pitch in May during the Cleantech Challenge. KATIE KLOSS
The challenge, which started in 2013, is open to student startups from Portland-area schools.
"Having the opportunity to work with innovators and entrepreneurs early in their college days, allowing them to test their ideas in a safe environment, is a game changer for the next wave of Oregon entrepreneurs," said Juan Barraza, the Cleantech Challenge's program manager.
Kale-Tek grew out of an entrepreneurship class taught by Biology professor Kellar Autumn, a biophysics specialist whose research has explored the science behind the sticky feet of geckos.
Turns out there are similarities in the nanostructures that make geckos stick and the ones found in the wax on kale leaves that allow it to repel water.
"The student team wanted to figure out if they could extract the wax and recrystallize it on a surface and make a natural hydrophobic coating," Autumn said. "Turns out they can."
Kale-Tek is still defining what markets to target with the technology, but anything that requires waterproofing is fair game, said team memberEmily Kelley. The group is looking at testing the product on different surfaces but sees potential in fabric and wood applications as well as agricultural applications.
The four-person team is working remotely on the project through the summer, funded by a $2,500 grant from the Cleantech Challenge competition. After that, the team will decide how to proceed, said Kelley.
Autumn said the class was designed to bring together interdisciplinary teams to show students how liberal arts degrees can be applied within the technology and startup space. Kale-Tek, for example, includes Kelley, who recently graduated with a history degree, and other members from various sciences or environmental studies backgrounds.
Kale-Tek is competing for a $10,000 prize in the Cleantech Challenge. They have already survived one round of judging. The final pitch is in early September.
"We had a fantastic semifinal round. All the teams are excited to participate in a program that provides an opportunity to test their innovative ideas and assumptions and get actionable feedback," Barraza said.
A LOOK AT THE CHALLENGERS
The Cleantech Challenge features startups from seven Oregon universities vying for a $10,000 prize. Here's the 10 finalists:
Kale-Tek: Adapts water-repellent properties of kale to other applications, such as fabric or wood.
Infinity Homes: Developing small home design/construction process that re-uses materials.
Cricket Oils: Developing cricket oil that can be used as an alternative to fish oils.
Meta Gel: Developing a highly-conductive thermal interface material that could allow heat harvesting.
Ocean Hexapod: Creating a robot that can be used to improve the cost and efficiency of wave power generators.
Penthouse Protozoa: A living filtration system designed to capture nutrients and improve the quality of agriculture run-off.
Plantalytics: Sensors to give vineyard managers real-time maps of their property.
Transposition: A system for the electric grid to reduce energy lost between power line transfers.
Tree dog: A system to hold a cut tree in place and then direct its fall.
Water Boys: A treatment system to remove pollutants and recover resources from liquid that drains off of landfills.